Body Shop In Culver City
In just a few short years, the automotive industry has already changed so much that it is hard to imagine what the future will hold. That is why it is so important for car manufacturers to continue innovating and developing new ideas in order to stay ahead of the competition and ensure their success in this ever-changing industry.
In reality, the car market is always in a state of fluctuation, with new models and car models releasing every year. However, amidst this vast amount of change and complexity it can be hard to keep up. Here are the 10 most anticipated car releases in 2023
Below is Manuel's Body Shop's Top Picks for car releases in 2023:
1.  CHEVROLET CORVETTE Z06
Image Source: Car and Driver
The Chevrolet Corvette Z06 is one of the most anticipated car releases in 2023 and it is not hard to see why
With a 5.5 liter V8 engine, 670 horsepower and 460 lb-ft of torque, it is easy to see why this car will be so popular when it comes out. The Z06 also has an 8-speed paddle shift automatic transmission and six-piston Brembo front brakes which provides smooth acceleration, great fuel economy and quick shifts thanks to a fully synchronized design that sends power directly to all eight forward gears without the need for a conventional torque converter.
Equipped with Michelin Pilot Sport PS2 tires, this sports car easily goes around corners and hugs the road on curves without losing control.
2. BMW X5
Image Source: BMW USA
 The interior of the new BMW X5 will be different than the current one. It will have an updated steering wheel and new console. Also, it will be more powerful than the current one. The car is expected to reach 389 horsepower/443 lb-ft and we are ready to see what else will be added in order to make it better. This car will probably have three engine choices: turbocharged straight four, diesel and hybrid technology that can run on electric or gas engines.
However, there are rumors about getting three other options as well: supercharger diesel and expansion joint gasoline engines. There will be an adaptive suspension system in the new BMW X5. In this way, vehicle's reaction to bumps and rough roads will be improved which means that the car will have less hard times when driving and will be more enjoyable to drive. It is also supposed to offer better traction which is another thing that will improve the driving experience of users.
This model will have fewer options than current version, but it is expected that they are equipped with many additional features and technologies we would love to see on a car from 2023. For example, the new BMW X5 will have a lot of sensors, technology and safety features.
3. NISSAN Z
Image Source: Nissan USA
 The Nissan Z is a stylish sedan with features that will make it stand out from other cars on the road, such as a 5.8 inch infotainment touch screen and 8 speakers for high-quality sound. One of its highlights is the technology will allow drivers to automatically select gears based on traffic and driving conditions, meaning your hands are free to do other things while you are behind the wheel. And speaking of safety, this vehicle will come with multiple airbags for added protection in any situation that might arise.
The 2023 Nissan Z will have rear-facing cameras and sensors that will keep the car from colliding with other cars. It is also expected to have side-facing cameras and sensors that keep the car from hitting pedestrians or anything in the road. This vehicle will use a coil-spring suspension system with active anti-roll bars and adaptive dampers to assist control body when navigating right corners.
Further, it will have a punchy 4.4 liter twin-turbo V8 mated to a battery pack and an electric motor will be available with a 644 hp.
4. FERRARI PUROSANGUE SUV
Image Source: Ferrari 
The Ferrari Purosangue SUV will have a 715 hp and 6.5 liter V6 turbocharged engine with diesel-electric hybrid tech and will be capable of topping out at 150 MPH. Its interior has an analog clock, USB sockets for charging all your devices, an auxiliary socket for helping charge your iPad or phone on the go, and more USB sockets than you could ever use!
It also comes with unique features that keep you looking like a superstar all day long. The Purosangue will have the ability to sync with an app and give you a full hair styling, makeup and clothing set or even a manicure and pedicure. It will also come with four seats and standard all-wheel drive.
The huge SUV will feature a new facelift which will include a new "salient" grille and redesigned headlights. The rear tail lights will also get redesigned as well as the taillights with the redesigned taillights taking into consideration Ferrari's new "aerodynamic styling." The 2023 Ferrari Purosangue SUV model will get eight gullwing doors, four of which are located at each door.
5. ASTON MARTIN VANQUISH
Image Source: Ashton Martin
The Vanquish has an amazing exterior design that is striking in person. It has an extremely clean front with no creases or lines, and the only black part is the wheels which have the Aston Martin logo on them. The chrome parts are shiny, and it gives off a unique design.
The back has a fold-up rear seat that opens up to give you extra room for luggage, and there are side vents which help absorb heat for better performance. The interior also gives off a luxury feel with suede stitching along with bright red accents.
There are many other cool features such as cruise control with automatic braking, full LED headlights, and hands free trunk access and start/stop functions which make this car more convenient than ever. The A/C and heat are also efficient, and the sound system is very high-quality with a 10.2 inch screen that holds a variety of features such as navigation.
6. AUDI A6 E-TRON
Image Source: MotorTrend
The Audi A6 E-Tron is based on the same platform as its sister car, the Q8 E-Tron. So, it should have similar design elements. It is said to feature 'shark bite' headlamps and slatted grille, which are two of the key design points from the Q8.The interior will be quite minimalist, but also feature 3D Virtual Cockpit which is a large colour display that replaces traditional instrument dials.
This new Audi has an impressive performance for a luxury car, with 0-62 mph time of 5.7 seconds and a top speed of 140 mph. It is also an efficient car as it works with Audi's e-gas system which recaptures energy during braking and uses it to power the engine.
7. PORSCHE MACAN EV
Image Source: Car and Driver
The Macan EV is going to be quite a bit different from the current design of most cars, as it is also a hybrid. It will have two electric motors and two gas engines, making for a very efficient vehicle in terms of emissions and cost, which Porsche is very interested in.
It will also be visually very high-tech, with "showcar" proportions and an interesting aerodynamic design. Porsche has been known for years for designing some of the most beautiful cars on the road today and it's exciting to think what else they have up their sleeves!
It'll have four-wheel drive, and a V6 engine with plug-in capabilities. That means the Macan EV will have lots of power on tap for when you need it, but it'll also be able to be completely electric for longer journeys. While most sports cars are really comfortable on long drives, the Macan EV will use all-wheel drive so that it can always generate maximum torque – unlike some of the other electric vehicles out there, which often have limitations in terms of travel range.
8.  BMW X8
Image Source: Car Buzz
The artificial intelligence navigation system maps out your route and gives you the safest and most convenient route to your destination while also giving you an estimate of how much time it will take you to drive from point A to point B. This is a very useful feature as it takes the guesswork out of driving.
The BMW X8 has the option of choosing from a V8 gasoline powered engine or a V12 engine. The 8 cylinder engine can produce up to 10 cylinders while the V12 engine can produce up to a whopping 600 horsepower. Both engines offer an option between rear wheel drive and all wheel drive, depending on your driving preferences.
9. HYUNDAI IONIQ 7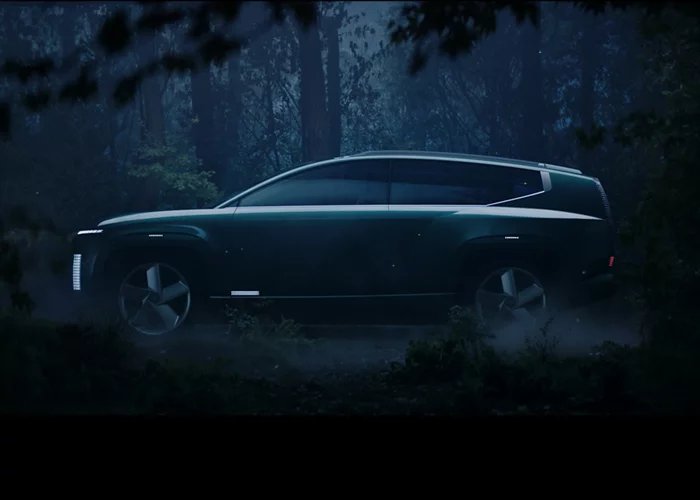 Image Source: Hyundai USA
Hyundai is known for its vehicles that have high quality and reasonable prices. The Hyundai Ioniq 7, with its launch on 2023 includes a unique interior design and eco-friendly exterior aesthetic. Along with this interior design will come an interactive driver interface (IDI) along with an excellent safety feature called Intelligent Driving Assistant.
In addition to its advanced safety features, it will also have other standard features such as push-button ignition, soft top roof and cargo cover hatchback design.
The cargo cover will drop to the back of the car, allowing easy access to the storage area. The storage area will includes a deck rail and cup holders. There will also be an waluminum roof rack which can be easily installed onto the roof. It will come as one of the best ways to add utility to your Hyundai Ioniq 7. It is easily removable when not in use so it adds convenience in terms of storing larger items inside your car.
The Hyundai Ioniq 7 will be designed with aerodynamic design that will allow for optimal fuel economy and further reduction of wind resistance. In addition, this vehicle will have upgraded with an eco-friendly body that has no panels on its exterior or grill on its front end.
10. ALFA ROMEO TONALE
Image Source: Alfa Romeo
As the world's most anticipated car releases in 2023, the Alfa Romeo Tonale is just one of many new models that companies like Alfa Romeo will release. The design itself is a blend of old and new, but it begins with an all-new blend of modern style that pushes the boundaries with long sloping hoodless lines and high-set arches. This model will also be equipped with a new innovative technology which has never been seen before in any vehicle – a thin exterior coating which changes color as you drive to match its surroundings.
The 2023 Alfa Romeo Tonale features a standard turbocharged 2.0-liter inline four generating 295 pound-feet of torque and 256hp. The seven-speed Dual Clutch (DSG) automated transmission and the all-wheel drive system keep the car in alignment and ready to explore any terrain it encounters. The Alfa Romeo Tonale has a 0-60 mph time of 5.8 seconds with a top speed of 155 mph, making it one of the fastest models on the road.
The 2023 Alfa Romeo Tonale comes standard with 18" Italian fashion alloy wheels, a leather steering wheel, heated seats, an auxiliary power outlet, keyless entry and start up and bluetooth connectivity. There are also some optional features that you can choose from, like a DVD/CD/USB player, a 6" touchscreen display and GPS navigation
Whether you are just a car enthusiast, or you need something with speed in your life, these 10 cars will have you jumping for joy. Imagine seeing one of these vehicles out on the road, and then getting behind the wheel to take it for a test drive. As long as you are healthy and the weather is not too cold, you will be able to drive these cars. The best part about automobile designers and auto repair near me is that they are always thinking about what their customers will want in their next car purchase.
While some new vehicle launches are still in the development phase, these 10 vehicles have already been on sale for quite some time.